What is required by law
For any new or existing business, it is your responsibility to ensure that the work environment is safe and that any potential hazards are marked clearly with appropriate signage.
In terms of the law, you are legally required to display the Health and Safety Law Poster

You are also legally required to report accidents using an accident report book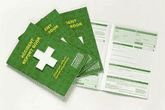 No Smoking Legislation (July 2007) requirements (£1000.00 Fine for NON Compliance!)
It will be mandatory for all entrances to buildings (non private dwellings) to display a no smoking sign at EVERY entrance to the building. You will also have to display a non smoking symbol in any vehicle that has shared use (ie more than one person will travel in the vehicle).
See: http://www.opsi.gov.uk/si/si2007/20070923.htm for full details.


---
FIRE EXIT SIGNS GUIDE
DIRECTIONAL SIGNS
Which sign should you use?
You can use either a European style which has no text or a British standard style which has text.
In either case your signs must include a running man symbol
It is not advised to mix the two styles


| | |
| --- | --- |
| | |
| European Style | British Standard Style |
HOW YOUR SIGNS SHOULD INDICATE EXITS
Signs should be situated so as to indicate exit routes. At least one sign should be visible from any place within the building
Possible meanings for fire exit signs
1. Progress down to the right
1. Progress down to the left
1. Progress up to the right
2. Progress forward and across to the right
1. Progress up to the left
2. Progress forward and across to the left
1. Progress to the right
1. Progress to the left
1. Progress forward
2. Progress forward and through
3. Progress forward and up
1. Progress down
FINAL EXIT SIGNS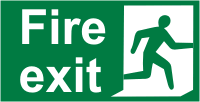 To avoid confusions, it is advisable to have "Final Exit" signs at external points. These should have a running man symbol and text but no arrow.
DECIDING UPON THE SIZE AND HEIGHT OF INSTALLATION

Recommended height for installation:
Above doors: 2.0m to 2.5m from floor level to bottom of sign
Wall Mounted: 1.4m to 1.7m from floor level to bottom of sign
View our full range of fire exit signs here
---
Floors
If floors are being cleaned or polished or are inherently slippery, this must be addressed immediately with a wet floor sign or slippery surface sign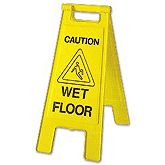 Additionally, if floorboards are damaged or uneven, trailing electrical cables are present then display a trip hazard warning sign



Stairs
Keep stairs in good condition with good lighting and a well fixed handrail. Also make sure stairs are kept clear of obstructions. If in doubt, display a keep clear sign.
Shelving
Make sure that items are easily retrievable without resorting to standing on a chair or desk. If it is unavoidable to have items high up, make sure that proper steps are used. It may also be advisable to create a sign to enforce this. See our bespoke signs section.
Fire Safety
One of the most important areas in Health and Safety is fire prevention, action and escape. An excellent starting place is with our Fire Risk Assesment Checklist booklet and Fire Risk Assesment Poster which will give you excellent help and advice.




Display a Fire Action Sign and doors that have been marked as Fire Doors must never be propped open. Also the emergency escape route must be kept clear of obstructions and be clearly marked out every step of the way by signage. Common signs for these purposes are:
Computer Display Screens
Working in front of a computer screen for over 3 hours a day could result in a repetitive strain injury (RSI). Make sure that desks are larege enough to accomodate paperwork, monitor and keyboard. The screen should be free from glare and reflection. It is advisable to display the Health and Safety Display Screen Equipment Regulations poster.



Manual Handling
Ensure that your work environment does not pose a major risk to the back. Such injuries are often incured when lifting heavy items incorrectly. Make sure your employees know the correct method of lifting by displaying the Manually Handling Regulations Poster.